Information on ticket distribution
For the first time in the history of NATO Days in Ostrava & Czech Air Force Days, we will distribute tickets, the acquisition of which will be necessary to enter the venue and which will be valid for one day of the event only. On this page you will find a summary of information related to the entance regulation, that will be continuously updated.
Everyone who goes to the event will have to have a ticket already purchased and will have to meet the standard conditions for entry to the mass event according to the applicable hygiene rules. A test site will not be set up at the premises and tickets will not be distributed there. These will be one-time, ie after leaving the premises, re-entry will no longer be allowed.

Admission to the event will continue to be free, but due to extraordinary measures, the purchase of a ticket is associated with a service fee of CZK 15, which only serves to cover the costs of Ticketportal, which is the exclusive distributor of tickets.
When booking a ticket, it will be necessary to choose the method of proving infectivity that the visitor will use! The tickets are necessary to regulate the number of visitors, only 40,000 of them will be allowed in the venue per day, according to hygienic regulations. At least half of all visitors must have completed vaccination (at least 14 days) or provide evidence of covid-19 within 180 days of infection, the other half will need a valid test for infectivity, ie a negative PCR test not older than 7 days or a negative antigen test not older than 72 hours. One of these conditions must be met by all visitors over the age of six, children under the age of six will not even have to have a ticket.
Validation will not take even a minute of your time, but it will significantly speed up the check-in at the entrances to the venue for you and other visitors.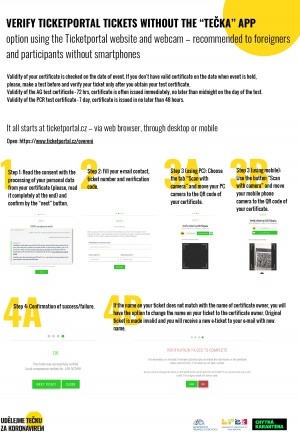 Read also: After a year, we look forward to the return of visitors to the NATO Days!
FAQ
What are the restrictions for entering the Czech Republic?
The restrictions and conditions differ depending from which country do you travel from. Please, check out the website Re-open EU for further information regarding travelling from your country of origin to the Czech Republic.
Where will the tickets be distributed?
The tickets are distributed via the website Ticketportal. Which is the exclusive distributor of tickets for the NATO Days in Ostrava & the Czech Air Force Days. It will not be possible to obtain tickets through another sales network or at information centres.
When will ticket distribution begin?
The first wave started on Friday 27 August at 14:00 with 15,000 tickets for Saturday and Sunday. The second wave began on Wednesday 1 September for another 15,000 tickets for both days. The launch of other waves will be announced well in advance.
Can I make a registration for someone else?
Yes, up to 6 tickets can be booked at a time. All tickets are issued in a name that must match the name on the covid certificate. The identity of visitors will also be verified upon entering the venue.
What is needed to buy a ticket?
Name, surname and e-mail address. If you want to buy tickets for more people, you will have to include their names
Will it be possible to buy a ticket at the entrance to the complex?
No. It is necessary to have a ticket purchased in advance.
Will I be able to attend the event on both days?
Yes. But you need separate tickets for Saturday and Sunday, and both of those need to be validated separately.
What do children need to enter?
Children under the age of six do not need a ticket or test.
Children older than six need both a ticket and a test according to valid hygienic regulations. In this case, the children's identity will be verified with a health insurance card.
Is it possible to be tested before entering the venue?
No, there will not be a test site at the venue. Therefore all unvaccinated visitors must arrange a test before leaving for the event.
How will foreigners and people who do not have the Tečka app (Czech app for vaccination or tests validation)?
It will also be possible to use a paper version of the EU Digital COVID Certificate.
Do I need to have a ticket printed?
No, you can have the ticket with you in digital form. For example on a mobile phone. But you can also print it.