News
Dutch F-16 Demo Team Traditional Performer at NATO Days
26.03.2014, 13:07
We are pleased to announce the RNLAF F-16 Demo Team as another officially confirmed participant of NATO Days in Ostrava & Czech Air Force Days 2014. The Team has been coming to Ostrava every single year since its debut in 2008 and still always brings something new.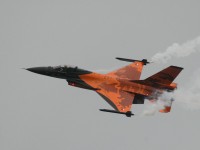 As part of regular change of the Team personnel, Captain Jeroen "Slick" Dickens became new display pilot for the 2014 and 2015 seasons. The spectators can thus enjoy an amended display sequence with some new elements. Even more visible change is the "new livery" of the display aircraft. The Dutch F-16 Demo Team distinctive orange painting proudly worn for several years has been discontinued in favour of the standard grey camouflage of other operational aircraft.
"The Royal Netherlands Air Force F-16 Demo Team is the only team that have displayed their skills in all last six years of the Ostrava show. This is a proof of the extraordinary relationship between our countries and armed forces," says Zbyněk Pavlačík, head of Jagello 2000, main organizing agency. "Moreover, it will be one of the Team's only two presentations in Central Europe, the other being at SIAF 2014 at Sliač, Slovakia. The next closest venue is Switzerland."
"We have met Captain Dickens at the last European Airshow Council Convention in Antwerp. "Slick" told us he wanted to perform as fine as his predecessors and expressed his intention to use his plane's flares in somewhat greater extent, to maximize the effects of the manoeuvres," Pavlačík adds.
Discontinuation of the display aircraft's "Orange Lion" original painting is due to the cuts in the Dutch defence budget seeing also a decrease of number of active F-16s. The display aircraft will thus be fully operationally capable.
Another F-16 Demo Team that the NATO Days in Ostrava & Czech Air Force Days 2014 will be able to admire is the Hellenic Air Force Demo Team Zeus, flying a regular operation aircraft as well.
See you at
NATO Days in Ostrava & Czech Air Force Days!
The General Partner of NATO Days in Ostrava & Czech Air Force Days is the company