Humans of NATO Days
The NATO Days in Ostrava & Czech Air Force Days are the biggest security show in Europe. But it would not be possible to organize such a huge event without a lot of people who dedicate long weeks and months of preparation to it and also without those who then get involved during the final preparations and the weekend..
#HumansofNATODays brings a series of interviews with representatives of various components and participants of the event, giving a glimpse into the functioning of the Czech army, components of the Integrated Rescue System or foreign armed and security forces.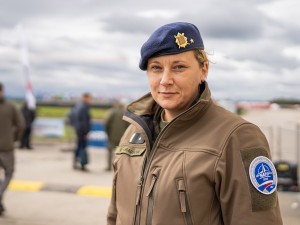 Major Veronika Kolíbalová Krausová serves as a meteorologist at the Land Forces Command. At last year's NATO Days in Ostrava & Czech Air Force Days, we met her every morning and evening, when she told us what kind of weather we can expect in the next few hours, which is essential for planning the program, especially flight displays. And so we interviewed her a bit. Why she chose meteorology or how is she different from the weather girls on TV?