News
We are very happy that we are safe in the Czech Republic // Humans of NATO Days
02.04.2023, 18:44
Did you know that the Czech Red Cross also belongs to the secondary components of the Integrated Rescue System (IRS)? And those, in turn, are an inherent part of every big event. At the NATO Days in Ostrava & Czech Air Force Days they oversee the safety and health of visitors, but also present themselves to the general public. The Red Cross Regional Association – Ostrava is no exception, moreover, visitors of the event are also introduced to the principles of first aid. In an interview, its director Alžběta Hrabovská explained the association's activities and her work.
How did you get to work for the Czech Red Cross?
The covid era led me to the Red Cross. I devised the project Singing under windows for retirement homes, in which Mirai or David Stypka participated, and I also approached the Red Cross for cooperation. They noticed me, and somehow, they kept me there, and I gradually found out what the job was like. When they were looking for a director, they approached me and asked me to apply for the position. And I thought why not?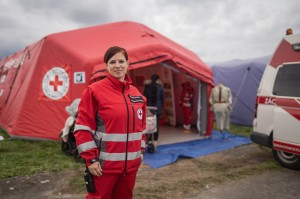 So, can you describe to us in more detail both your work and the activities of the entire organization?
My work mainly involves a lot of administration, as it involves taking care of both all employees and our projects. We take care of blood donors, which we reward several times a year, including the highest categories. We organize courses and training both at schools and for employees of companies, courses of the Paramedic of recovery events and all first aid training. We also provide medical assistance, which means that we are available as a medical supervisor at cultural and sports events, where we watch over visitors so that they do not get injured and so there is someone to give medical treatment.
The main activity of the Red Cross as a humanitarian organization and a member of the Integrated Rescue System (IRS) is to provide assistance upon request in mass disasters and natural disasters such as floods or tornadoes. Now we are also fully involved in the refugee crisis, for a year we have been co-organizing KACPU Ostrava (Regional Assistance Center for Assistance to Ukraine) with the firefighters, where our volunteers have been working all the time since the first day the war started.
What does the work with Ukrainian refugees look like at KACPU?
As for the war in Ukraine, our work began in a completely different way. On the basis of being approached by Czech Railways, our members accompanied the evacuation trains. They took Czech trains to Ukraine and in those first days helped with the evacuation of women and children to the Czech Republic. On the March 2nd, 2022, we opened the KACPU right here at the Red Cross. It was created in less than 24 hours in our building, where it was for a week, for the most acute period, before it moved to Černá louka. We took care of food, clothing, warmth, all the comforts of the first refugees who came and had nothing at all. We provided them with a place where they could register, where they could sleep and eat, and most importantly, where they could hide with their children when they came to a foreign country and had nowhere to go. Now we continue to do this, we still take care of the emergency shelter at KACPU Ostrava for refugees, their clothing and general care, we cooperate with psychologists, firefighters, or the police. (Note: KACPU operated on Černá louka until September 26, 2022, then moved to Dr. Malého Street 17.)
In terms of the scale of aid provided, this refugee crisis was unprecedented. Where did you get all the clothes and other equipment for the Ukrainians?
Since we are involved with the IRS and are a humanitarian organization, we have a regional humanitarian warehouse in Ostrava. This means that we have a relatively large amount of clothing and stock, both hygienic and food. We must always be ready and able to help in the event of sudden events such as floods or tornadoes, or what happened in Studénka. So, we drew from our humanitarian stockpile.
The work of rescuers and paramedics brings a lot of very powerful experiences. What would you highlight for yourself during your time at the Red Cross?
Probably the war. I am a paramedic, I work in the rescue service, but the experience of the war, when it all started, is something else entirely. My people were on the first evacuation train and I was in contact with them day and night, 24 hours a day on the phone. I was terrified of where I was sending them, and then they called me that there were hundreds of people asking for help and that there was a huge separation of women and men. When the Red Cross arrived, the men at first thought they would be able to go with us. Our members experienced their farewell there, women and children cried and arrived in the Czech Republic in a terrible state. That made me feel very grounded and I wondered how comfortable we actually live here.
I did not expect at all what horrors await us with that war. We meet refugees every day at KACPU and listen to their stories, and often, our girls cry. We sit there with them, we are full of hopelessness and we think how very lucky we are that we are safe in the Czech Republic and that we are the ones helping and not the ones who have to be helped.