News
Public premiere of L-39NG model and fly-by of AERO airplanes: Dolphine, Albatros & ALCA
04.09.2014, 12:02
Visitors of NATO Days in Ostrava & Czech Air Force 2014 will have a unique opportunity to see a 1:7 model of a new L-39NG aircraft for the first time in public. What is more, visitors will be also shown a joint fly-by of Czech of three generations jet planes L-29, L-39 and L-159 made by AERO Vodochody. This couldn't be done without the support of our partners, LOM PRAHA and Blue Sky Service.
"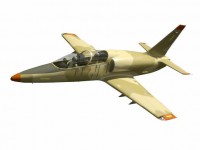 At the moment it is an extraordinary occasion that shouldn't be missed as the aircraft L-29 has not been a part of Czech Air Force armament for more than 10 years. Thus, visitors will have chance to compare three generations of training combat aircrafts produced by AERO Vodochody," comments the editor-in-chief of Aviation and Astronautics magazine Jan Čadil and states: "Such fly-by could be seen during Aviation fair in Pardubice years ago."
Aircraft L-29 Dolphine was the first military training jet aircraft that was designed and produced in Czechoslovakia by AERO Vodochody. In 1960s it became a standard training aircraft in countries that were members of Warsaw pact since Soviet union as well as other members preferred L-29 to Jak-30 and Polish aircraft TS-11 Iskra. Nowadays the aircraft is kept by Blue Sky Service company, whose headquarters is at Tuřany airport in Brno.
The second aircraft, L-39 Albatros, is up to now the most used training jet plane. This aircraft is run by the state enterprise LOM PRAHA in Flight Training Centre in Pardubice. It is used for training of future pilots of Czech Air Force there. Thanks to its versatility it can be used for basic, continuation and combat training. It is suitable for aerobatics as well.
This aircraft has been used for the new L-39NG concept, that is L-39 Next Generation, which could be as successful and high quality as L-39. The new machine should be ready by 2017 and constructers expect it to have the best qualities of original aircrafts L-39 and L-159. What is more, it will be supplemented by many improvements such as lighter construction, so-called "wet wing" that enables fuel storage in wings an new cost-saving jet engine FJ44-4M. At static exhibition the model of a new aircraft will be shown along with L-39CA, which is a unique adjusted version of L-39C.
The last one of the mentioned aircraft is single-engine subsonic combat aircraft L-159 Alca. This aircraft is part of armament of 212th tactical flight, that is located at Čáslav Air Force Base.
See you at
14th NATO Days in Ostrava & 5th Czech Air Force Days!
The General Partner of NATO Days in Ostrava & Czech Air Force Days is the company