B-52 Stratofortress
For more than 60 years, the Boeing B-52 Stratofortress eight-engine bombers, designed for both conventional and nuclear airstrikes, are the backbone of the United States Strategic Bomber Air Force.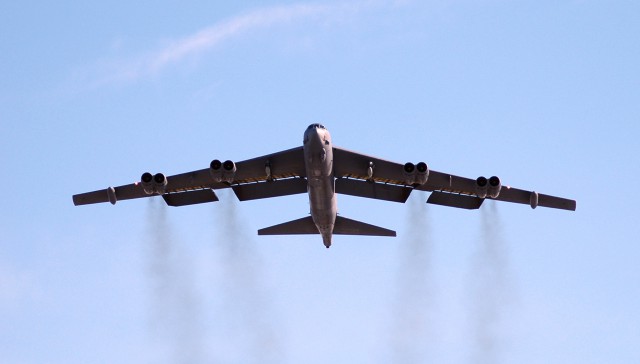 The new heavy long-range bomber, which was supposed to replace the USAF's Convair B-36 and Boeing B-47, has been under development since 1948. Four years later, on April 15, 1952, its prototype took off. The first serially produced version the B-52A followed two years later. After extensive testing, the US Air Force accepted the improved version B into regular service in 1955. Gradually, a total of 744 pieces of various versions were built. The latest version B-52H was developed in October 1962.
Initially, the B-52's mission was to penetrate enemy territory at high altitudes and launch an airstrike on strategic targets. However, with the development and improvement of the ground anti-aircraft systems and the changing nature of the potential threats, the strategy had to adapt to the new circumstances. Nowadays, crews are trained in the use of a wide range of conventional, nuclear and precision-guided munitions, including, for example, missiles with a flat flight path, or laser and satellite-guided bombs.
In order for the aircraft to be able to meet current requirements, their navigation and weapon systems, in particular, were continuously upgraded. The standard crew of the B-52H currently consists of five people: the pilot-in-command - the pilot, co-pilot, navigator and two operators of weapons and electronic systems of the aircraft. The aircraft has the classic all-metal construction and is powered by the original Pratt & Whitney engines TF33P-3/103 with a maximum thrust of 75.64 kN. The B-52 can also conduct the aerial refuelling, thus allowing the aircraft to operate for more than 30 hours.
Thanks to its flexibility, the B-52 has participated in many conflicts, such as the war in Vietnam, Iraq, Afghanistan, the former Yugoslavia, and Syria. The US Air Force expects to operate them beyond the horizon of 2040. Therefore, projects for their next large-scale modernization are currently being prepared.
The USAF currently operates B-52H exclusively at Minot AFB in North Dakota and Barksdale AFB in Louisiana.
► Aviantion Archive - B-52 Stratofortress
Specifications

Wingspan
56,40 m
Length
48,50 m
Height
12,4 m
Empty weight
83 250 kg
Max takeoff weight
219 600 kg
Maximum speed
1 017 km/h
Service ceiling
14 540 m
Range
16 330 km
The page is prepared in cooperation with the Aviation + Cosmonautics magazine of Aeromedia publishing.
The magazine brings news about both military and civilian aviation.