L-39 Albatros
Thousands of pilots in many countries over the world owe their first aviation experience to the L-39 Albatros, which is not only an aircraft for trainees but was also used for fitness flying of astronauts. The L-39, produced by the Aero Vodochody company, continues in the legacy of the equally famous predecessor, the L-29 Delfin.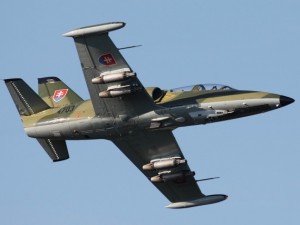 At the beginning of a long line of 2892 produced aircraft stood a prototype, with which the factory pilot Rudolf Duchoň began driving tests. The first flight of the L-39 Albatros prototype took place on November 4 1968.
A whole training and diagnostic system were developed for the new aircraft, and in addition to the basic training version called the L-39C, a version of the L-39V was also developed in the mid-1970s, designed for towing shooting targets. For the needs of extended training, a new version - the L-39ZA was developed in 1973. It was powered by an AI-25TL engine with a maximum thrust of 16.87 kN and armed with a double-barrelled cannon GŠ-23 calibre 23 mm, carried in a removable case under the fuselage.
Albatross has been exported to many countries around the world, where it serves to this day. Its manufacturer, Aero Vodochody Aerospace, is currently preparing a new generation, the L-39NG.
► Aviantion Archive - L-39 Albatros
Specifications

Wingspan
9,44 m
Length
12,13 m
Height
4,70 m
Empty weight
3 400 kg
Max takeoff weight
5 500 kg
Maximum speed
850 km/h
Service ceiling
11 000 m
Range
1 650 km
The page is prepared in cooperation with the Aviation + Cosmonautics magazine of Aeromedia publishing.
The magazine brings news about both military and civilian aviation.