W-3 Sokol
The twin-engine W-3A Sokol ("falcon" in Czech) medium-size, multipurpose helicopters have been in service with the Czech Air Force since 1996. The prototype, built at the Polish PZL Swidnik factory, flew for the first time on 16 November 1979, with serial production starting seven years later.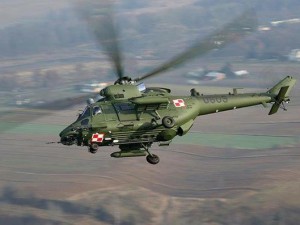 The first Sokol helicopters, acquired in exchange for MiG 29s, were flown by pilots of the Czech Air Force from the manufacturing plant in Swidnik, Poland, to the base in Prague-Kbely on 27 September 1996. The first four machines for the transport base were initially equipped for passenger transport only. Later, additional helicopters with special equipment were delivered to perform search and rescue (SAR) and air ambulance tasks. The machines with a four-bladed main rotor with vibration damper soon proved their worth in saving lives during the floods in Moravia in the summer of 1997.
At present, ten "Falcons" are operated at the 24th Transport Air Force Base in Prague-Kbely, which also provides the Air Rescue Service Centre from the Plzeň-Líně. The crew of the machine always consists of a helicopter captain, co-pilot and on-board technician. When performing SAR tasks, the other crew members are two air rescuers trained for work under the helicopter: rappelling, climbing, movement in difficult terrain, rescue from water, and diving. In the emergency medical helicopter, the fourth and fifth crew members are a doctor and a nurse.
In addition to the tasks of the Air Rescue Service and SAR, "Falcons" are also used in the Czech republic for transport, paradrops and firefighting. For this activity, they have a special bucket suspended under the fuselage, which can be filled with up to 1000 litres of extinguishing agent. The W-3 Sokol helicopters are also operated by the Polish armed forces and have also been used by the military in Algeria and the Philippines.
► Aviantion Archive - W-3 Sokol
Specifications

Main rotor diameter
15.70 m
Length with rotor
18.79 m
Height
4.20 m
Empty weight
2,850 kg
Max takeoff weight
6,400 kg
Maximum speed
260 km/h
Service ceiling
6,000 m
Range
820 km
The page is prepared in cooperation with the Aviation + Cosmonautics magazine of Aeromedia publishing.
The magazine brings news about both military and civilian aviation.