News
Czech Air Force will present maximum of its capabilities
21.08.2015, 15:30
The Air Force of the Czech Army will traditionally present itself at Mošnov's airport in its full strength. NATO Days in Ostrava & Czech Air Force Days's visitors may look forward to flying displays, simulated attack to ground target and various aircraft at static displays as well.
As usual, the JAS-39 Gripen fighter will represent the tactical air force despite Gripens are now taking part in Alliance's Air Policing mission in Iceland. "Czech Gripens cancelled all of their foreign presentations due to the mission, therefore the only possibility to see them remain within the Czech Republic," stressed Zbyněk Pavlačík from Jagello 2000. "The interesting reason why Czech Gripens are currently in Iceland is that Canadian Air Force, that was supposed to ensure the protection, has deployed its aircraft against the Islamic State."
Also for the first time since 2008, the visitors will have a chance to enjoy the dynamic display of 212nd Tactical Wing which will include effective simulated attack on ground target performed by two advanced light combat L-159 ALCA aircraft. The standard L-159 and jet trainer aircraft L-39ZA altogether with two-seater L-159T1 will be also at the ground static display.
The helicopter air force won't be missed as well. Manoeuvrability will be demonstrated by attack helicopter Mi-24 while transport helicopter Mi-171 will give the visitors an opportunity to witness a simulated rescue operation of shot down pilot.
Moreover, the Czechs prepared the presentation of 242nd Transport and Special Wing from Prague's Kbely base which will include its aerial observation and photography plane L-410FG staged for static display and CASA C-295M aircraft that will carry paratroopers to a low altitude airdrop.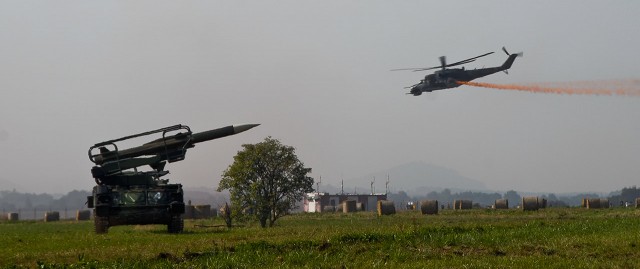 Besides air equipment, the army will also present close-related anti-aircraft hardware. The 25th Anti-Aircraft Regiment presentation will include SURN CZ fire control radar alongside with 2P25 missile vehicle and Zil truck or RVR radar. These vehicles will be part of joint dynamic display altogether with 7th Mechanized Brigade. Last but not least, the visitors may look through mobile Radar ST-68U CZ from 26th Regiment of Command, Control and Reconnaissance designed for radar surveillance and detection of particularly low-flying targets.
See you at
15th NATO Days in Ostrava & 6th Czech Air Force Days!
The General Partner of NATO Days in Ostrava & Czech Air Force Days is the company