News
Patrouille Suisse is heading to their first show over Mošnov
11.02.2022, 08:05
Traditionally, the first foreign participants of the following NATO Days in Ostrava & ACR Air Force Days are revealed in the winter months of the year, and this time we are starting in style. The Swiss Air Force, whose representatives presented an amazing show at each of their participation at Ostrava Leoš Janáček Airport, is sending the aerobatic group Patrouille Suisse to its premiere performance.
The history of this group dates back to 1964, since 1995 it has been flying F-5E Tiger II machines with an attractive coating in national colours. This group last performed in the Czech Republic in 2017 at the Čáslav Airport Open Days.
The aerobatic group will return to Mošnov Airport after a two-year break, when the PC-7 Team from Switzerland introduced itself here, which, among other things, attracted attention by a combined fly past with the Swiss F/A-18 Hornet aircraft.
"The Swiss Air Force has built an excellent reputation at NATO Days thanks to attractive dynamic demonstrations, most recently of a Super Puma helicopter, and we are very pleased to be able to offer visitors the last of Swiss display teams that did not participate in our event so far," said Zbyněk Pavlačík, Jagello 2000 Chairman. "Patrouille Suisse is one of the few acrobatic groups using supersonic aircraft. It was supposed to perform here already in 2016, unfortunately its participation was cancelled, so we have only been able to see Turkish Stars from these groups, flying also on F-5s," adds Pavlačík.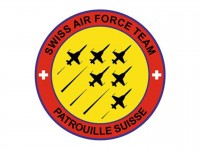 The F-5 light fighter was developed on the basis of a private initiative by the Northrop company, which wanted to bring the aircraft with low acquisition and operating costs as an attractive export alternative to larger aircraft, such as the F-4 Phantom II. The F-5 itself was produced in two basic versions - the original F-5A Freedom Fighter and the upgraded F-5E Tiger II. A total of 2,600 pieces of all versions of the aircraft were produced, which were exported to NATO countries, as well as to other American allies. It has been used in a total of 26 countries around the world, and remains in service in many of them to this day.
See you at
22nd NATO Days in Ostrava & 13th Czech Air Force Days!
The General Partner of NATO Days in Ostrava & Czech Air Force Days is the company