News
Draken, Viggen and Gripen to show-off in spectacular fly-by
20.08.2014, 11:04
Before we announce the eagerly expected true delight of the 2014 NATO Days in Ostrava tomorrow, we are bringing another great news already today - a joint fly-by of the Swedish-design supersonic aircraft present at the show this year.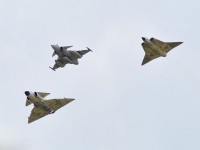 Exactly to the day in one month, the visitors of the show will be able to admire a unique formation of all three presented Swedish supersonic jets - the Swedish Air Force Historic Flight Saab 35C Draken and AJS 37 Viggen, and JAS 39 Gripen of the Czech Air Force. Similar composed fly-by is usually possible to see only directly in Sweden, where was the ilustrative picture made, so the NATO Days' visitors will have an exceptional opportunity to see it.
By this premiere formation flight, Sweden wishes to appreciate the continued cooperation with the Czech Republic in the lease of the Gripens, a deal that has been reached earlier this year.
I addition to flying in this formation, all three aircraft will perform their individual displays during the programme, giving the spectators a chance to see each of them twice in the sky.
"The idea of the joint fly-by has been with us since the start. We had to solve the security-organisational issues first, including the repeated take offs of display pilots during one day. I wish to thank Swedish authorities for their great support of this idea," says Zbyněk Pavlačík, Head of the Jagello 2000 Association, main organizer agency of NATO Days in Ostrava.
See you at
14th NATO Days in Ostrava & 5th Czech Air Force Days!
The General Partner of NATO Days in Ostrava & Czech Air Force Days is the company