News
Exclusive Premiere of the New Aero L-39NG Jet Demonstrator
26.08.2015, 13:30
Ambitious "Next Generation" successor of legendary Aero L-39 Albatros will be presented for the first time for both Czech and world public at NATO Days in Ostrava & Czech Air Force 2015. The aircraft, designed and produced by the traditional Czech aircraft maker AERO Vodochody AEROSPACE a.s., has the best starting conditions to keep on famous military training jet aircraft history.
"There was the Ostrava's exhibition of the small L-39NG model last year. For 2015 AERO Vodochody prepared the exclusive exhibition so visitors will have unique opportunity to see the Czech defence industry golden pearl – new Aero L-39NG demonstrator on static display in the centre of the venue. We are very glad that AERO Vodochody decided to show their new aircraft exclusively at NATO Days in Ostrava & Czech Air Force 2015," Zbyněk Pavlačík, chairman of Jagello 2000, said.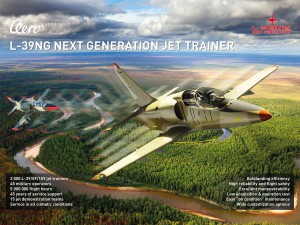 "NATO Days in Ostrava & Czech Air Force are the best occasion for us to introduce our new aircraft to public from the Czech Republic and the rest of the world. Aero L-39NG will provide the focal interest of general public as well as experts at the show. Moreover we will present information for anyone interested in our new product at our promo stand. And least but not last visitors can buy our unique souvenirs," comments Tomáš Cícha, AERO Vodochody AEROSPACE a.s. spokesman, and states: "Special stickers for the aircraft are being prepared for this exclusive premiere."
The aircraft of the next generation is based on Aero L-39 Albatros, the most famous Czech aircraft ever made. Since its first days, Albatros has been the most successful military training jet on the planet. Modernization is truly profound. Aero L-39NG can be proud of the integrated Williams FJ44-4M turbofan engine with 16.87 kN max thrust, so-called "wet wing" that enables fuel storage in wings, or modern cockpit case created with new advanced construction materials. This resulted in significantly reduced weight, while range and speed increased. High-end technological progress of the firm led to the fundamental avionics change, for example to new advanced configurable head-up display.
Thanks to excellent handling qualities, the new Aero L-39NG is ideal successor of the legendary Aero L-39 Albatros designed for basic and combat training of the future air force pilots. Besides combat training, the aircraft may be used in complex aerobatics. L-39NG project received very positive response from many countries. Some of them have already used current L-39 version, some are ready for military training jet purchase in the near future.
Aero Vodochody AEROSPACE a.s focuses on development and manufacturing of civilian and military airplanes. It is the biggest producer of aircrafts in Czech Republic and one of the oldest producers in the world. The company is very active in wide scale of projects and plays an important role as a partner of the biggest producers in the area of civilian aviation. Apart from that, it is stable partner of various air forces around the world.
Aircraft manufactured by AERO Vodochody have always possessed special characteristics, such as outstanding control, robust design and exceptional adaptability. These facts could be confirmed by 45 military operators on four continents using machines L-29 Dolphin, L-39 Albatros or L-159 ALCA. Throughout its history, the company has made over 7000 airplanes that have proven their value in all types of extreme climate conditions. Apart from the above mentioned characteristics, L-39NG also adds the option called "support by the hour" which is an effective and cost - friendly way of maintaining chosen components, mainly the engine. For higher security, L-39NG is equipped with various security systems, including new ejector seat that enables the pilot to escape even at zero speed and height and health monitoring system.
History of Czech training jet aircrafts begins in 1959, when L-29 Dolphin took off for the first time. During the 60s, the same plane has become the main practice airplane for countries of Warsaw Pact. In 1968, it was replaced by L-39 Albatros. The company has produced 3000 aircraft of this type and many of them are still in use. However, they will need to be replaced soon and L-39NG offers to be the best replacement. The project of new aircraft is important not only for Czech aviation industry, but also for the whole Czech economy.
See you at
15th NATO Days in Ostrava & 6th Czech Air Force Days!
The General Partner of NATO Days in Ostrava & Czech Air Force Days is the company