News
First Aircraft Confirmations
24.01.2015, 12:53
Even as early as by mid-January, the first international participants have already officially confirmed their presence at this year's edition of NATO Days in Ostrava & Czech Air Force Days. The visitors can look forward to seeing a C-27J Spartan transport plane of the Lithuanian Air Force as well as a NATO's E-3A AWACS early warning aircraft.
Even as both types are NATO Days in Ostrava regulars, their participation cannot be taken as granted. "We are truly delighted to be able to confirm this year's first participants so early into the new year. It is a proof that Ostrava firmly belongs to the airshow calendar," comments Zbyněk Pavlačík, chairman of Jagello 2000, the Europe's biggest security show's main organizing agency.

However, one can never say whether the real-life operational commitments will make it possible for a particular aircraft to attend on the show's date, as announced now. NATO's AWACS plane participated in 2012 for the last time. A year earlier, a public ceremony had been staged to mark the official joining of the Czech Republic to the Alliance's AWACS programme. In last two years, the plane had to cancel its previously announced participation due to operational assignments. "We firmly believe that it will be the third time lucky and that the AWACS plane will become one of the show's highlights this year," adds Pavlačík.
TIP: Overview of participating aircraft through history of the event (natodays.cz)
The AWACS plane had first landed at the Ostrava-Mošnov airport in 2004 and instantly became a crowd-puller with long queues of enthusiasts to check the plane "with a saucer on its spine" and see up close its specially modified interiors.
Read also: E-3A's official website (nato.int)
On several occasions NATO Days in Ostrava visitors could compare, when a Royal Air Force E-3D AWACS plane from RAF Waddington arrived, thus presenting yet another slightly different type's variant. A unique encounter of early warning aircraft occurred in 2011 and in 2012, featuring three different types – NATO's E-3A, UK's E-3D and Swedish S100D Argus with a longitudinal spine radom instead of a circular one like on the two E-3 types.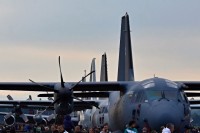 "We are also thankful to the Lithuanian Air Force for their decision to send the most advanced aircraft in their inventory, the C-27J Spartan tactical transport plane. Lithuania had seen its premiere participation in 2012, had to cancel on a short notice in 2013, and was back last year. Their renewed participation is also seen in the context of cooperation and assistance among Allies after the Czech Air Force JAS 39 Gripen fighters have participated in NATO's Baltic Air Policing mission and were guarding the three countries' airspace.
The Spartan plane was displayed at Ostrava for the first time in 2007 by the ALENIA Aeronautica producing company during a dynamic presentation. In 2012, as many as three aircraft of this type participated at NATO Days in Ostrava & Czech Air Force Days. The Italian Air Force performed a flying display, while the Romanian and Lithuanian Air Forces displayed their aircraft in the static park. Last year again, the Romanian and Lithuanian Spartans formed part of the "big birds" display on the Golf taxiway.
"We have one more pleasant information for our fans – we are preparing a traditional meeting with them to exchange views and experience. Stay tuned for more info in the coming days," concludes Pavlačík.
See you at
15th NATO Days in Ostrava & 6th Czech Air Force Days!
The General Partner of NATO Days in Ostrava & Czech Air Force Days is the company