Accommodation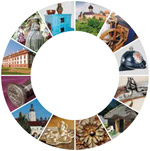 We have prepared information about accommodation options in Ostrava and its surroundings for visitors of NATO Days in Ostrava & Czech Air Force Days.
The Moravian-Silesian region offers more than just NATO Days in Ostrava and Czech Air Force Days, for example many tourist sites you might find interesting. Please feel free to enjoy further activities in the region on your way to the event, such as visits of historical and technical sights, hiking, sports, trips to the nature, spa relaxation or else. You can find the possibilities at severnimorava.travel.
Cynological club Mošnov
KK Mošnov 247
742 60 Petřvald 1
Tel.: +420 777 705 032
E-mail: bob@elumina.cz
Cynological club Mošnov offers an opportunity for the NATO Days' visitors to set a tent or park a trailer, RV in their area close to the Mošnov during September 20-22, 2019. The refreshment will be provided through the whole time.
Penzion Flora
Soběšovice 19
739 22
Tel.: +420 558 664 219
Mobil: +420 604 759 696
www.penzion-flora.cz
​
Hotel Max Šimek
Nádražní 186
702 00 Ostrava
Tel.: 595 136 790
E-mail: info@hotelmax-ostrava.com
www.hotelmax-ostrava.com
Rekreační areál "U Kateřiny" Štramberk
Tamovice 408
Štramberk
604 274 669,
E-mail: ukateriny@novos.cz
www.ukateriny.cz
Recreational area "U Kateřiny" offers accommodation in 4beds cottages. Price is 800kč/night for whole cottage.
Hotel City City ***
Macharova 16
702 00 Ostrava - Přívoz
Tel.: 602 672 162
E-mail: info@city-city.cz
www.city-city.cz
We offer double rooms for 1790,- CZK and single rooms for 1390,- CZK. The hotel offers free WIFI and indoor parking. The hotel is non-smoking. Breakfasts are served in the rooms according to the previous orders and selections.

Hotels are ordered by the time of their reaction to our offer.
See you at
NATO Days in Ostrava & Czech Air Force Days!
The General Partner of NATO Days in Ostrava & Czech Air Force Days is the company