News
Aerobatic team Orlik to lead the Polish deployment to NATO Days
04.05.2015, 11:20
The Polish Air Force will continue with wide presentation of its equipment and will send a record-breaking number of 12 aircraft to the NATO Dyas in Ostrava & Czech Air Force Days. Eight of them will belong to the Orlik aerobatic team.
In 2014, Poland was the Special Partner Nation of the NATO Days and brought all of its supersonic aircraft. This year's theme of its presentation will be turboprop aircraft. Besides the mentioned Orlik (Eaglet) team with PZL-130 airplanes (called also Orlik), SW-4 helicopter will perform a flying display and will be available at static display, where visitors would be able to see also transport aircraft An-28TD and C-295M.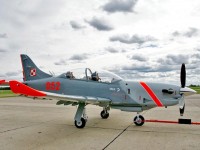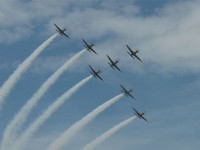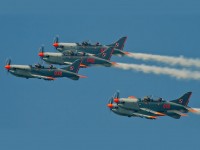 The Orlik aerobatic group returns to the Mosnov airport after 15 years. It had its Czech premiere there in 2000 at the Czech-Polish Airshow, that was one of the first projects of then-founded Jagello 2000 Association and that can be considered as a precedestor of the NATO Days in Ostrava. "The 'airshow' at the Mosnov airport evolved in a hardly believed way in those 15 years and the Orlik also became an internationally renowned team. It will be one of the highlights of this year's NATO Days," says Zbyněk Pavlačík of the Jagello 2000. "But we hope that visitors will appreciate aslo the rest of the Polish aircraft, especially the flying display of the SW-4 helicopter."
Both PZL-130 and SW-4 originate in the Polish aviation industry. PZL-130 is a twin-seater airplane used for training of pilots of the Polish Air Force, that is its only operator. The Orlik team will arrive with eight of these planes, however number of its machines varied from 5 to 8 through its history, it was 8 only in 2013.
The SW-4 Puszczyk (tawny owl) is light utility helicopter that serves also only in the Polish Air Force as a trainer. But it can be used also for border patrols, medevac or other missions.
The An-28TD, twin-engined light prop transport aircraft, was also build in Poland under the licence of Antonov company. So the only presented aircraft without Polish origin is C-295M, produced in Spain, that will serve as a support plane, but visitors will see it at static display together with An-28 TD and SW-4.
See you at
15th NATO Days in Ostrava & 6th Czech Air Force Days!
The General Partner of NATO Days in Ostrava & Czech Air Force Days is the company