News
Joint paradrop with presence of the IDF will remark cooperation with Israel
19.09.2021, 16:00
The NATO Days in Ostrava & Air Force Days will present unique paradrop consisting of paratroopers from three nations - Czech, Slovak and Israeli. It will remark cooperation between nations which lasts for 70 years.
As a surprise of Sunday's NATO Days program, we have prepared a joint jump of Czech and Israeli soldiers from a CASA C-295 transport aircraft. The jump will be performed by instructors of the airborne training of the Czech Army units and paratroopers of the Israeli Defense Forces.
There are few states with which the Czech Republic has, and in the past Czechoslovakia had, as good relations as with Israel. Thanks to this, we can offer our visitors this unique jump considering that the participation of Israeli forces in a public event in Europe is very rare, "emphasizes Zbyněk Pavlačík, chairman of Jagello 2000." We believe that it is a pleasant surprise for spectators. "
It is the first jump of Israeli paratroopers in our territory since the establishment of the Czech Republic. However, the symbolic significance of today's event has deep historical context. It builds on the cooperation from 1948, when the then Czechoslovakia provided material assistance to a young Israeli state and trained Israeli specialists, pilots and paratroopers on its territory.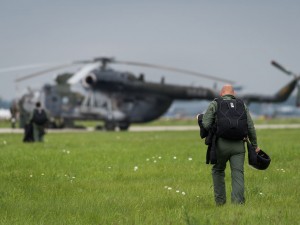 See you at
21st NATO Days in Ostrava & 12th Czech Air Force Days!
The General Partner of NATO Days in Ostrava & Czech Air Force Days is the company