News
Osprey comes back to Ostrava!
27.07.2015, 11:20
The star of last year's NATO Days in Ostrava & Czech Air Force Days is coming to Leoš Janáček Ostrava Airport again. The U.S. Special Operations Command is again going to send its CV-22B Osprey convertiplane to the biggest security show in Europe.
A year ago, the visitors were amazed by the machine with tiltrotors, which enable the Osprey to function both as a helicopter and an airplane. They were also allowed to see the plane from the inside, however due to its operational duties it had to leave already on Saturday, the first day of the two-day show.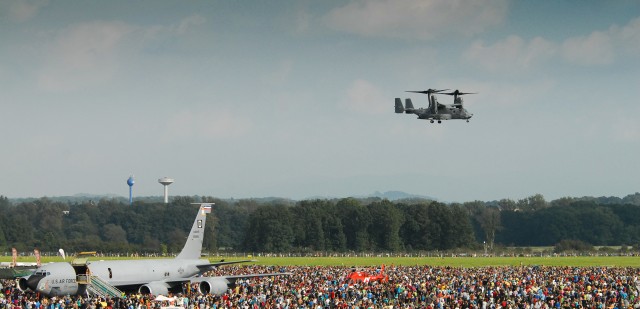 "This year's visitors will have the opportunity to look through the Osprey convertiplane in its static display during the whole event. Its participation is great news not only for aviation enthusiasts but also because the involvement of the Osprey at public shows is still very rare in Europe," Zbyněk Pavlačík from Jagello 2000 stated.
Same as last year the Bell Boeing CV-22B Osprey is going to arrive from the 352nd Special Operations Group deployed at RAF Mildenhall base in the United Kingdom. This unit is the only one in Europe operating the Osprey. It has only ten of these aircraft, from which the first one arrived in June 2013.
Due to its tiltrotors, the Osprey is able to take off and land as a helicopter. Nevertheless the travel speed is significantly higher, comparable to turboprop transport aircraft. These abilities enable the Osprey to operate in difficult geographic conditions, which predisposes this machine for special operations – it provides transport of special forces or their supply missions under all conditions as well as in dangerous territories.
Dynamic display of the Bell Boeing CV-22B Osprey from last year:
See you at
15th NATO Days in Ostrava & 6th Czech Air Force Days!
The General Partner of NATO Days in Ostrava & Czech Air Force Days is the company