News
The winner of the photo contest is...
07.11.2022, 08:28
The winners of the photo contest of this year's NATO Days in Ostrava & Days of the Czech Air Force have already been decided. This year, the jury of the organizers and the general public chose from a record number of 520 pictures, so the decision was not easy.
In such a number of posts, it was inevitable that some motifs would be repeated, which is also the case with the images in the first two places, which depict the American strategic transport aircraft C-5M Super Galaxy and the Swiss aerobatic group Patrouille Suisse. However, the first place was taken by Roman Valtr with his photo, who, in addition to the plane itself, managed to capture both the crew and other visitors taking pictures.
1st place: Roman Valtr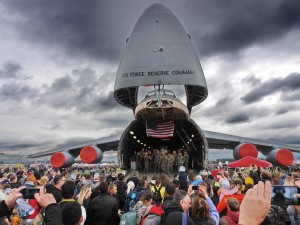 The Patrouille Suisse's photo by Tim Beach in second place impressed the jury with its unique composition of five aircraft of the group. On the contrary, Jakub Steller's shot, which was awarded third place, and which captures the Gripen and F-16 aircraft before the final fly past together with the rainbow, is quite unique - he managed to capture the weather, which had a significant impact on this year's edition, as well as the alliance cooperation and the welcoming of the incoming members NATO represented by the flypast.
The winner of the Fans Award, on the other hand, was clear in the Facebook vote. Kamil Zajaczowski's picture also showing the Patrouille Suisse group, but with a member of the crew of the American KC-135 tanker, who was enjoying the atmosphere of the event on the wing of this machine, gained the most favor.
Fans Award: Kamil Zajaczkowski
Congratulations to all the winners. We will contact them by e-mail or by phone, and they can look forward to souvenirs from this year's NATO Days in Ostrava & Days of the Czech Air Force.
See all the contest photos here
The General Partner of NATO Days in Ostrava & Czech Air Force Days is the company