C-295M
The development of the C-295 transport aircraft started in the second half of the 1990s by the Spanish company CASA (Construcciones Aeronáuticas S.A.), which is now part of the European Airbus consortium. It used elements of the construction of the proven type CN-235. The C-295 aircraft with a take-off weight of 23,200 kg has a 57 m3 spacious pressurized cabin, which can be adjusted to carry 71 soldiers or 48 paratroopers or 24 wounded on the stretchers or three Land Rover SUVs. The C-295 is powered by two Pratt and Whitney PW-127G turboprop engines with an output of 1971 kW (2645 hp) with six-bladed propellers, which give it a cruising speed of up to 480 km / h. The operational range of C-295 with a load of 8000 kg cargo is 2150 km. The biggest advantage of this transport aircraft is the equipped advanced avionics.
The flight of the prototype of the C-295 aircraft took place on November 28, 1997, and after flight tests, the type received certification in November two years later. The domestic Spanish Air Force was the first to show interest in it. Thanks to its qualities, it was able to establish itself not only in the domestic Spanish Air Force but also in the air force of many other countries - Poland, Jordan, Brazil, Finland, Kazakhstan, and Portugal. The Czech Republic has been operating four machines since 2010.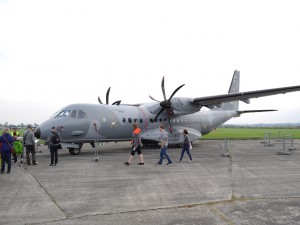 Specifications

Wingspan
25,87 m
Length
24,44 m
Height
8,66 m
Empty weight
11 000 kg
Max takeoff weight
23 200 kg
Maximum speed
482km/h
Service ceiling
9 144 m
Range
5 630 km
The page is prepared in cooperation with the Aviation + Cosmonautics magazine of Aeromedia publishing.
The magazine brings news about both military and civilian aviation.