SW-4 Pusczyk
The Polish helicopter manufacturer PZL Swidnik is well known in Poland for its most famous Mi-2 and W-3A Sokol types. Among the last of Swidnik's designs is the light helicopter SW-4. It is the first ever light helicopter designed, developed, and manufactured in Poland.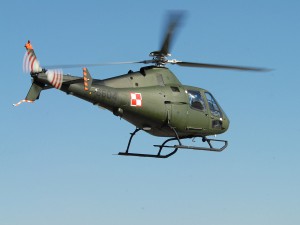 The first efforts to develop a light helicopter in Swidnik can be dated back to the 1960s, but there were many interruptions in development. The basic features were already outlined in 1981. However, the actual development of the SW-4 type did not start until 1986.
Basic training of helicopter pilots requires a small helicopter with the lowest possible fuel consumption and associated operating costs. As a premium feature it can also be used for recreational flying or some special aerial work. A helicopter with the ability to carry four to five people, which also allows the transport of the wounded, and, thanks to its higher payload, also agricultural work, etc., seems ideal for such use. Its use in the army or police is obvious. The SW-4 is powered by a single Allison Rolls-Royce 250-C20R/2 turboshaft engine with an output of 336 kW. The avionic equipment can be customised to meet specific customer requirements. The prototype flew for the first time on 26 October 1996. On 15 November 2004, the first machine was handed over to representatives of the Polish Air Force in Świdnik. SW-4, which was named Pusczyk (Tawny), is mainly used by the flight school in Deblin.
► Aviantion Archive - SW-4 Pusczyk
Specifications

Main rotor diameter
9.00 m
Length with rotor
10.57 m
Height
3.13 m
Empty weight
1,050 kg
Max takeoff weight
1,800 kg
Maximum speed
260 km/h
Service ceiling
5,200 m
Range
790 km
The page is prepared in cooperation with the Aviation + Cosmonautics magazine of Aeromedia publishing.
The magazine brings news about both military and civilian aviation.