News
AH-64 Premiere Display Is Cancelled
18.09.2015, 23:11
The visitors of this year's NATO Days in Ostrava & Czech Air Force Days will not have the opportunity to watch expected dynamic display of American helicopter AH-64 Apache due to the missing permission.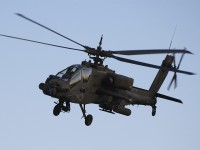 "We have tried to use the opportunity of international Ample Strike exercise held in the Czech Republic to bring such interesting military equipment to our visitors, however the U.S. armed force's rules unable the attendance of Apache at NATO Days 2015," stated Zbyněk Pavlačík from Jagello 2000. "The pilot himself apologizes."
The U.S. Army's helicopter AH-64 Apache should arrive to Mošnov Airport thanks to its way from ongoing exercise in Náměšť nad Oslavou to another exercise in Poland. Because it is not designated display helicopter, the aircraft needs a special permission for dynamic displays in public. Despite great affords of the Czech Embassy in Washington, this permission was not granted by the U.S. authorities.
However, we firmly believe that 15th NATO Days in Ostrava & 6th Czech Air Force Days still have a lot to offer and that the visitors will gain unforgettable memories at this event.
See you at
15th NATO Days in Ostrava & 6th Czech Air Force Days!
The General Partner of NATO Days in Ostrava & Czech Air Force Days is the company