News
Finnish F-18 Display to Make Czech Debut in Ostrava
21.03.2014, 12:00
Finland, as one of the very few European states that have not participated at NATO Days in Ostrava & Czech Air Force Days so far, is to make a spectacular debut in the Czech Republic, bringing in the F-18 Hornet Solo Display.
"We are truly excited by the participation of the Finnish Air Force F-18 solo display. For Finland, it will be a double premiere – first time in Ostrava and first time ever in the Czech Republic, with such a highly attractive and sought-after display no less!. Last time we had a Hornet was the Spanish Air Force F-18 in 2007", comments Zbyněk Pavlačík, chief of the Jagello 2000, NATO Days in Ostrava main organizing body. "The Finnish display is even more precious since they do not participate at many airshows outside Finland, having been only to the Netherlands last year", adds Pavlačík. Thrilled by the premiere Finnish participation is also Mr. Petr Lukasik, new Finnish Honorary Consul in Ostrava and ,the general director of the Tieto company.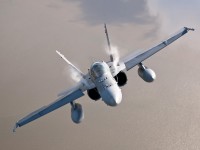 The F-18 has been developed as carrier-borne fighter and attack aircraft for the US Navy in 1970s. It is a multirole aircraft, fulfilling protective, interceptor, close air support and reconnaissance roles. "Finnish Hornets were originally intended to play a fighter role only and were not capable of air-to-ground missions at first. The ground-attack capability has been added only in the new millennium, with 55 F-18C single and 7 F-18D airframes in service", adds Pavlačík.
There is one more specific feature to the Finnish F-18 story. As part of the offsets with the purchase of the aircraft, the US had provided technological capabilities to Finnish businesses that has led, inter alia, to the miracle story of the Nokia mobile phone producer.
See you at
14th NATO Days in Ostrava & 5th Czech Air Force Days!
The General Partner of NATO Days in Ostrava & Czech Air Force Days is the company