News
Premiere of Turkish Air Rorce: reconnaissance Phantoms
03.09.2014, 13:35
The Turkish Air Force continues in presenting machines of their equipment at this year's NATO Days in Ostrava & Air Force Days. Visitors will have unique opportunity to see two Phantom II aircraft in reconnaissance version RF-4E on Mošnov airport.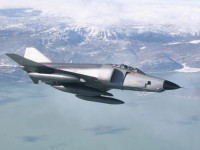 "The Turkish Air Force show's it's self in the best light thank's to performance of Turkish Stras and F – 16 Demo Team Soloturk in Mošnov. The Turkish Air Force going to show static display this year, but it's important no less than the previous years," said chairman of Jagello 2000. "We can tell that the Turkish side complied our long-term wish just about these particular reconnaissance aircraft."
McDouglas F -4 Phantom II supersonic fighter was in Ostrava seven years ago, when there was Phantom II from German Air Force. The Turkish aircraft were only in "standard" version on this year's SIAF in Sliac, Slovakia. "The Turkish Phantoms aren't habitue of foreign exhibitions. And the participations of reconnaissance wersion RF-4E is much rarer," said Jan Čadil, editor of magazine Aviation+Cosmonautics.
F – 4 Phantom is a two-seat fighter aircraft adapted for long-range action in any weather. These machines formed a significant part of the American Air Force in the 60's and 70's and they were exported to many other counties. Phantom was originally designed for dogfihts and gaining air superiority. The aircraft was later used for the attacks on the ground targets and it's version RF-4E for reconnaissance flights.
See you at
14th NATO Days in Ostrava & 5th Czech Air Force Days!
The General Partner of NATO Days in Ostrava & Czech Air Force Days is the company