News
Swedish "Flying Gas Station" coming to NATO Days
30.05.2014, 12:00
Swedish Air Force (Flygvapnet) is sending its aircraft to Ostrava yet again. This year, the visitors will get a chance to see their C-130H Hercules modified to a flying tanker configuration for air-to-air refuelling.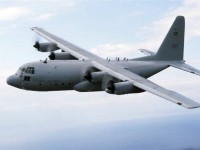 This will be the fourth year of the Swedish Air Force participation at NATO Days in Ostrava. "We are very grateful for this display of such a rare aircraft type," says Zbyněk Pavlačík, head of Jagello 2000, the show's main organizing agency.
"This tanker Hercules was already part of one of the last year's highlight presentations when it flew in formation with Czech Air Force Gripens in an air-to-air refuelling simulation demonstration. This year, the visitors will have a chance to view the aircraft up close on the static park," details Pavlačík. "It is a unique presentation since only a handful of European air arms possess air refuelling aircraft. One of them is the French Air Force that had presented their C-135FR at our show two years ago."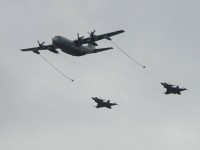 The Flygvapnet has 8 C-130 Hercules (designaded TP 84 in Sweden) propeller—driven transport aircraft in its inventory since 1960s. Such a long service life is a testimony to the great design of this legendary type that took to the skies 60 years ago and has since been produced in numerous new variants. One of the SwAF Hercules planes underwent
a modification to become and air-refuelling plane. Discussions are still ongoing about possibility of larger Swedish presentation at Ostrava.
See you at
14th NATO Days in Ostrava & 5th Czech Air Force Days!
The General Partner of NATO Days in Ostrava & Czech Air Force Days is the company