News
This year's Special Partner Nation will be Sweden
12.02.2020, 20:42
The Swedish Ministry of Defence has officially approved that it will become the Special Partner Nation for NATO Days in Ostrava & Czech Air Force Days for 2020. This will make Sweden the first country to take on this role for the second time.
The Swedish decision to assume the role of the partner country confirms the excellent level of bilateral relations between Sweden and the Czech Republic. It was confirmed in a joint meeting of defence ministers of both countries Lubomír Metnar and Peter Hultqvist in Brussels.
The Special Partner State is a unique concept that was introduced at NATO Days in 2014 and which allows a selected country to present a wide range of armed and security forces, as well as its defence industry. For the first time this role was taken by Poland, the second was Sweden and commemorated the 10th anniversary of the use of JAS-39 Gripen aircraft by the Czech Air Force. It now takes over this status from Romania, which was a partner country in 2019.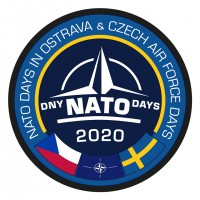 "This year's NATO Days in Ostrava will be exceptional because they will be held for the twentieth time. We are glad that Sweden has accepted our offer to become the Special Partner Nation. It will be given an exclusive space to showcase its technology and capabilities in the year we commemorate 15 years since the introduction of the Swedish JAS-39 Gripen aircraft to the Czech Air Force," said Czech Defence Minister Lubomír Metnar.
"After last year's absence, this widespread participation of Sweden may be a surprise, but negotiations were taking place already in the summer, so Sweden were saving its capacities for 2020," Zbyněk Pavlačík, chairman of Jagello 2000 adds. "This double Swedish partnership shows that NATO Days present not only the member states of the North Atlantic Treaty Organization, but also its partners."
Sweden is one of the five important alliance partners, the so-called "Enhanced Opportunity Partners". It is the presentation of non-member, but partner NATO countries that NATO Days in Ostrava want to focus more on in the future.
The first meeting on the Swedish participation took place on Monday in Stockholm, where it was agreed that the list of presented techniques would be finalized in June. In 2015, visitors to the event could see the extensive participation of the Swedish historical squadron, the TP-84 Hercules refuelling aircraft, and Sweden also contributed to the presentation of the C-17 Globemaster aircraft from the Heavy Airlift Capability international program.
See you at
20th NATO Days in Ostrava & 11th Czech Air Force Days!