News
USA: Return of the C-5M giant and the Venom and Viper helicopters
14.09.2021, 07:27
Strategic transport giant C-5M Super Galaxy is returning to the NATO Days in Ostrava & the Czech Air Force Days after two years, along with a pair of UH-1Y Venom and AH-1Z Viper helicopters, and MQ-9 Reaper. The United States hereby complements its previously announced participation.
After a one-year pandemic break, the American giant transport aircraft C-5M Super Galaxy returns to Mošnov, which dominated the static demonstrations two years ago. And just like in 2019, this time it will transport a multi-purpose helicopter UH-1Y Venom and a combat AH-1Z Viper, which will be presented in an exhibition dedicated to the modernization of the Czech Army.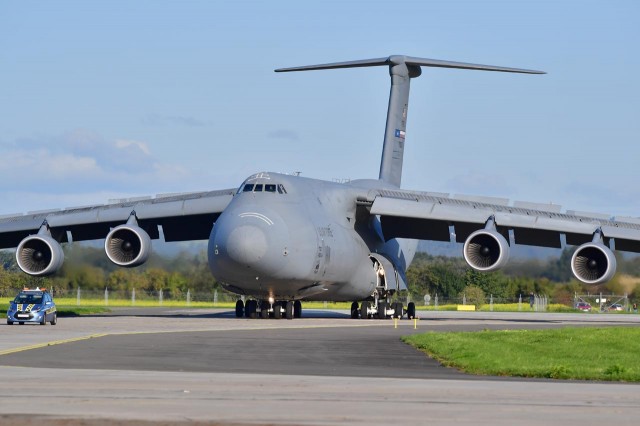 "The C-5M Super Galaxy is one of the world's largest aircraft and demonstrates the strategic capabilities of the US Air Force, making it possible to quickly transport large numbers of people, materials or equipment virtually anywhere in the world," said Zbyněk Pavlačík, Chairman of Jagello 2000 and reveals that: "without the participation of the C-5M Super Galaxy, the participation of Venom and Viper helicopters would not be possible, but we hope that for future years helicopters will arrive on their own from Náměšt nad Oslavou, where the Czech unit is dislocated."
The C-5M Super Galaxy is the most advanced version of the largest US airliner, which provides the US Air Force with the ability to carry heavy intercontinental air transport. Its main purpose is to transport oversized and heavy loads between continents - tanks, armored vehicles or helicopters.
Helicopters AH-1Z Viper, combat, and UH-1Y Venom, multi-purpose, in addition to the US Marine Corps both Venom and Viper will soon be found in the armament of the Czech Army, where they will replace obsolete helicopters Mi-171 and Mi-24. They should be available to the Czech army during 2023. Although the Venom and Viper helicopters are based on the older UH-1 Iroquois and AH-1 Cobra models, which entered service during the Vietnam War, these versions share with their predecessors only the basis of the helicopter. Venom and Viper are equipped with new types of engines, at the same time there has been a major improvement in avionics but also weapon systems.
In addition to the Marine's Venom and Viper helicopters, the AH-64D Apache and UH-60 BlackHawk army helicopters will also be presented at NATO Days. The United States will introduce four different types of helicopters from three different manufacturers, but with similar uses.
See you at
21st NATO Days in Ostrava & 12th Czech Air Force Days!
The General Partner of NATO Days in Ostrava & Czech Air Force Days is the company