News
VHU will introduce Škoda 903
15.07.2014, 13:25
Visitors of NATO Days in Ostrava & Czech Air Force Days will have an opportunity to see Škoda 903 command car thanks to the participation of the Military Historical Institute (VHU).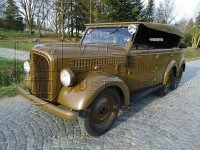 This vehicle is probably one of the only two remaining and thus it is very valuable item in the collections of the Military Historical Institute. The Institute, which specializes on history of Czech army, is a long-time participant of NATO Days. After last year's exhibition of tank VZ35, the VHU goes on with displaying the equipment of the First Czechoslovak Republic. "However, Škoda 903 isn't a typical military piece," says Zbyněk Pavlačík, chairman of Jagello 2000, which is the main organizer of the event.
As usual, the Military Historical Institute will introduce this vehicle in dynamic display, but there will be the opportunity to see it also in the VHU's exposition.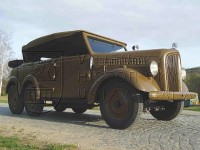 The history of Škoda 903 originates in 1930's, when Škoda factory began the development of a new six-wheel command car. Its basis was personal car Škoda 650. To get the best driving qualities possible, constructers decided for double rear axle.
Along with Praga AV and Tatra 26, Škoda 903 belongs to the unique Czechoslovak interwar construction school of triple-axle vehicles, that can be seen only in the VHU. These competitive vehicles were eventually assessed to be better than Škoda 903 and therefore, only a small series of 42 vehicles Škoda 903 was manufactured in 1940-1942. The Military Historical Institute obtained our particular vehicle in Exchange with the National Technical Museum in 2007. It was made in 1941.
See you at
14th NATO Days in Ostrava & 5th Czech Air Force Days!
The General Partner of NATO Days in Ostrava & Czech Air Force Days is the company