Sea King
The Sea King helicopter was developed by Sikorsky Aircraft in the late 1950s under the factory designation S-61. The machine was originally designed to protect US Navy aircraft carriers from enemy submarines. The prototype had a first flight on March 11, 1959, and the the first production machines were delivered to the US Navy two years later. The helicopters were originally named HSS-2, then SH-3 in 1962.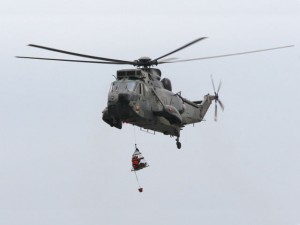 Sikorsky Aircraft's designers gave the Sea King a robust fuselage with a boat-shaped lower section that allowed operations from the water's surface. The machine is equipped with a three-wheel spur-type landing gear. A pair of General Electric T58-GE-10 turboshaft engines of 1,043 kW (1,400 hp) each was selected to power the five-bladed main rotor and tail balance propeller.
The Sea King anti-submarine helicopters proved to be very successful. This allowed the development of other variants: for example, for passenger and cargo transport, as a carrier for electronic equipment for early warning and as a search and rescue (SAR) machine. It is therefore not surprising that the armed forces of almost twenty-five countries have gradually acquired these helicopters, and that other companies have bought the rights to licence production – notably Agusta, Mitsubishi and Westland, whose machines are still in service in Europe, for example, in the German Navy. These helicopters, powered by two 1,238kW (1,660hp) Rolls-Royce Gnome H1400 turboshaft engines, continue to be used for passenger and cargo transport as well as in air ambulance service.
► Aviantion Archive - Sea King
Specifications

Main rotor diameter
18.90 m
Length with rotor
22.15 m
Height
5.13 m
Empty weight
6,241 kg
Max takeoff weight
9,752 kg
Maximum speed
232 km/h
Service ceiling
3,050 m
Range
1,482 km
The page is prepared in cooperation with the Aviation + Cosmonautics magazine of Aeromedia publishing.
The magazine brings news about both military and civilian aviation.