News
Celebration of 100 years of Czechoslovakia will culminate in a historical flypast
06.09.2018, 10:35
This year's NATO Days in Ostrava & Czech Air Force Days are one of the largest public events aimed to commemorate the 100th anniversary of formation of Czechoslovakia and its armed forces. This exceptional year will provide visitors with a unique encounter of contemporary and historic equipment, topped off by a unique historical flypast outlining the development of both Czechoslovak and Czech Air Forces.
In this extraordinary passage, accompanied by Smetana's symphonic poem "Vltava", 16 types of aircraft that have served in the Czechoslovak and Czech Air Force over the last hundred years will be presented. At the same time, visitors will be able to see unique displays of historical tanks and additional ground forces equipment in the area of dynamic displays: "Although we originally counted on live performance of Janáček Philharmonic Ostrava, we could not proceed with it due to technical arrangements. Nevertheless, we believe it will be a unique experience that our visitors will remember for a very long time," explains Zbyněk Pavlačík, chairman of Jagello 2000.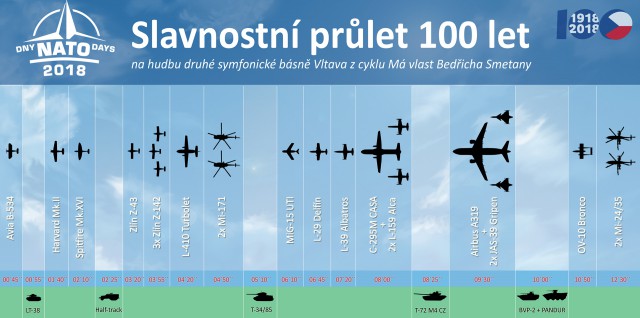 The historical flypast will begin with the replica of Avia B-534 biplane, representing the oldest period of air force, followed by other famous aircraft and helicopters, including the contemporary ones: "This flypast provides an extraordinary picture of individual stages of the history of the Czechoslovak Air Force, including the equipment operating in the service of the Czech Air Force," highlighted the Czech Air Force Commander, Brigadier General Petr Hromek.
The Editor-in-Chief of magazine "Aeronautics and Astronautics" Jan Čadil confirms his words by saying: "This is a unique opportunity to see number of aircraft that have made a significant contribution to the history of our aviation. For instance, Harvard Mk.II training jet and Spitfire Mk.XVI fighter jet will commemorate the heroism of our pilots during the Second World War, and on top of that, the second mentioned type recalls the post-war renewal of the Air Force."
See you at
NATO Days in Ostrava & Czech Air Force Days!
The General Partner of NATO Days in Ostrava & Czech Air Force Days is the company