News
Denmark to Present Third F-16 Solo Display
26.06.2014, 15:29
Denmark is joining confirmed participants of NATO Days in Ostrava & Czech Air Force Days 2014, returning to the event after five years. Royal Danish Air Force is going to present its multipurpose F-16 fighter in an attractive dynamic display, thus becoming the third air force to showcase great flying capabilities of this combat aircraft in the Ostrava sky.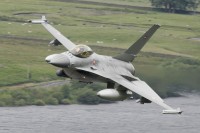 "We are excited about the Danish comeback to NATO Days in Ostrava. Five years ago, Denmark presented pair of AS-550 FENNEC helicopters at the static park. The announced F-16 Solo Display is a much welcome return," says Zbyněk Pavlačík, chairman of Jagello 2000, the event's main organizing agency.
RDAF F-16 Solo is thus joining the Hellenic Air Force F-16 Demo Team Zeus in what will be both teams' debut appearances at NATO Days in Ostrava & Czech Air Force Days, while the third F-16 presenter - the Royal Netherlands Air Force - is a regular participant at Ostrava.
Royal Danish Air Force is operating 30 F-16s in AM and BM versions, Block 50/52. This multipurpose aircraft type will be presented at Ostrava in livery of the three air arms. Each team has its own distinctive display so the visitors will get exclusive chance to compare and enjoy great variety of displays. "The Danish display happens in a much larger area that the Dutch F-16 Demo. In good weather conditions, the Danish pilot comes from low level fast speed on afterburners into a steep vertical climb to altitude of 10 km," comments Jan Čadil, chief editor of the Letectvi + kosmonautika magazine.

As a little appetizer, watch the video of the F-16 by the Danish Air Force with attractive cockpit views:
See you at
14th NATO Days in Ostrava & 5th Czech Air Force Days!
The General Partner of NATO Days in Ostrava & Czech Air Force Days is the company