News
Display of Slovak MiG-29 will be replaced by its flypast
04.09.2018, 12:04
Visitors of this year's NATO Days in Ostrava & Czech Air Force Days may look forward to a unique flypast of two Slovak MiG-29. It will thus replace the planned dynamic display of this aircraft which had to be, unfortunately, cancelled. Changes in participation also concern Hungarian JAS-39 Gripen, which will be presented only at static display alongside with newly added Typhoon of the Royal Air Force.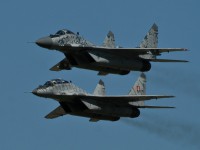 "The Slovak aircraft had not even performed at other public events in the last weeks, including the Slovak International Air Fest at Sliač or the airshow in Radom, Poland. However, we are glad that visitors will not miss the participation of MiG-29 entirely as the Slovak Air Force has prepared a compensation in the form of a special flypast of a pair of these aircraft," explains Zbyněk Pavlačík, chairman of Jagello 2000.
Changes in the participation list concern also other countries. Hungarian JAS-39 Gripen will be presented to visitors at the static display instead of the dynamic one. On the other hand, the Royal Air Force has extended participation of its Typhoon fighter jet which will be besides the already confirmed dynamic display newly showed at the static one.
See you at
NATO Days in Ostrava & Czech Air Force Days!
The General Partner of NATO Days in Ostrava & Czech Air Force Days is the company