News
French Alpha Jets for the first time on static display at NATO Days
08.09.2019, 08:24
Two weeks before the event, the list of aircraft participanting in this year's NATO Days in Ostrava & Czech Air Force Days is still expanding. Currently, the first appearance on the static presentation was announced by the Alpha Jet E aircraft from the Cazaux flight school. The aircraft will complement the already confirmed participation of eight Alpha Jet Group Patrouille de France.
The French Air Force, which has prepared an exclusive demonstration of the aerobatic group Patrouille de France for this year, is enlarging its participation by a pair of Alpha Jet E training aircraft from the French-Belgian flight school Advanced Jet Training School (AJeTS).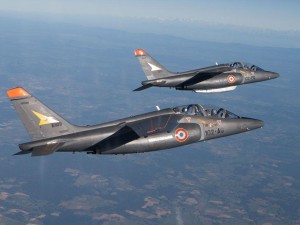 "The participation of special forces is always rare, given the level of secrecy in which they operate," recalls the chairman of Jagello 2000 Zbyněk Pavlačík. "Furthermore, after Romania and Germany, it is the third country to present its ground technology at this year's NATO Days."
The Alpha Jet E aircraft was developed in the 1970s under the French-German collaboration of Dassault and Dornier. It is a lightweight, twin-engined jet trainer. Currently, is still being used by French, Belgian or Canadian Air Force mainly for training, but it serves also for an air support role in some African or Asian air forces.
See you at
19th NATO Days in Ostrava & 10th Czech Air Force Days!
The General Partner of NATO Days in Ostrava & Czech Air Force Days is the company