News
SAAB Continues in Substantial Support of NATO Days in Ostrava
22.08.2014, 09:10
The SAAB Company has already been the general partner of NATO Days in Ostrava & Czech Air Force Days for five years. NATO Days has become the largest security show in Europe also thanks to SAAB's significant contribution.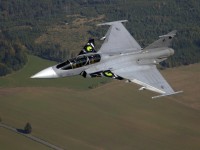 SAAB is one of the most important defence technology suppliers in the world, and it is well-known in the Czech Republic for its JAS 39 Gripen aircraft which are used by the Czech Air Force. Many other up-to-date products, supplies and solutions of military defence technologies or public security solutions can be found in its portfolio. Therefore, not only the militaries but also other components of the integrated rescue system and private companies are listed among SAAB's main customers.
This year's NATO Days in Ostrava spectators will have an exclusive chance to see Gripen aircraft flying Czech as well as Hungarian flags. Furthermore, SAAB 35C Draken and AJS 37 Viggen of the Swedish Historic Flight, both predecessors of the Gripen, will be introduced in a rare presentation reflecting the continuity of the Swedish design school.
In previous years, other SAAB aircraft were presented at the event. In 2011 and 2012, a unique SAAB S100 Argus with AWACS radar system on the top was at static display. The presentation of SAAB also included historic aircraft AJS 37 Viggen and SAAB 105, both at a dynamic display in 2013. In addition, a turboprop SAAB 340 aircraft secured the transport of the Swedish VIP delegation in 2012.
The cooperation between the SAAB Company and NATO Days in Ostrava started in 2007 and SAAB's participation at the event comes almost naturally. Its support is aimed also on associated programme of the event, which provides meeting opportunities for leading military and political authorities from Central European and allied countries.
See you at
14th NATO Days in Ostrava & 5th Czech Air Force Days!
The General Partner of NATO Days in Ostrava & Czech Air Force Days is the company