News
Slovak Air Force in Wider Display
16.05.2014, 21:35
It took a little longer than usual, but we are happy to announce yet another foreign participant of NATO Days in Ostrava & Czech Air Force Days 2014. Slovak Air Force is planning on bringing the MiG-29 and L-39 aircraft and the Mi-17 helicopter.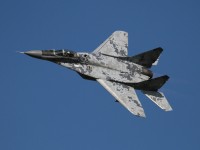 Slovak Air Force is thus following on its last year's participation that was highlighted by the joint Czech-Slovak fly-by, staged to celebrate the 20th anniversary of independence of both countries. "This year, Slovakia commemorates 10 years of their NATO membership and we are glad they have decided to celebrate it in this style during NATO Days in Ostrava," says Zbyněk Pavlačík, head of Jagello 2000 Association.
"All announced aircraft have been preliminary confirmed for static display, but we are still discussing possibility of the MiG-29 dynamic display during simulated dog fight. We know Slovak pilots have been practising this type of flying."
Slovak Air Force has been participating at NATO Days since 2010, owing also to the Czech Air Force format of the Ostrava event where SAF regularly sends its MiG-29s. In 2012 the SAF fighters staged an attractive dogfight presentation.
Slovak participation can still increase by civilian units, custom/ prison service and others.
See you at
14th NATO Days in Ostrava & 5th Czech Air Force Days!
The General Partner of NATO Days in Ostrava & Czech Air Force Days is the company